Being A Surrogate Mother
Being a surrogate mother is a noble and rewarding decision. Every year thousands of new families are conceived with the help of these wonderful women. We admire and respect our surrogates and we take extra care to ensure they are well treated and well paid.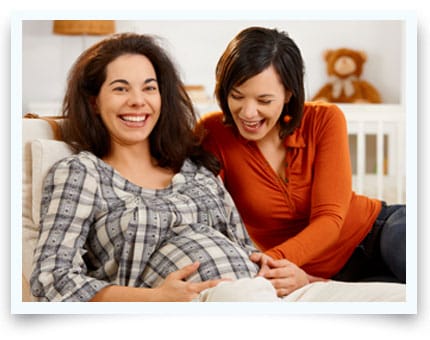 Jump Down The Article:
Also in the Guide:
At the SENSIBLE agency, we understand the surrogacy journey is not just about the Intended Parents. We take extra care to make sure the surrogate mother's journey just as easy and successful – from the moment she decides to become a surrogate until the moment the baby is born, and then through her full recovery. We promise to stay by her side and give the support required by such a valuable service.
Becoming a surrogate mother is rewarding, but not always easy. In this article we will explain what is required to become a surrogate mother, and what you should expect along the journey. We also invite our surrogates to join our online community on Facebook to connect and share their stories. Within our community is a wealth of knowledge, experience and support, and urge all our surrogate mothers to get involved and share their experiences.
To become a surrogate mother, read through the information below. Afterward, please fill in the Application Form on this website. If you have questions, our support team is available to answer questions and guide you along the process.
How to Become a Surrogate Mother
heck out the criteria below to see if you qualify to be a surrogate mother. If so, then this is the process to become a surrogate:
Fill out the application: The Become a Surrogate form can be found here. Fill out the firm completely. If you have questions, feel free to ask us. After submitting the application, one of our surrogate managers will contact you by email to review the application and move to the next step.
Social and medical history information: We will ask permission for your doctor or health care provider to send a complete medical history directly to our clinic. This information is kept strictly confidential – and kept only by our clinic. We don't keep a copy of your personal medical information, and it is never disclosed to any third parties.
Physical examination: You will need to have a complete medical checkup to show you are healthy. We can provide a full list of fertility and general health questions for your doctor to answer.
In-home visit: One of our surrogate managers will contact you to schedule a visit to your home. This will include a casual inspection of the environment in which the baby will develop. But the visit also gives us a chance to meet and get to know you better. The meeting also gives you an opportunity to ask questions and learn more about the process.
Background checks: You will need to consent to standard criminal records and background check.
Mental health evaluation: We will arrange for an evaluation with our mental health care professional. The goal is to make sure you understand the obligations required of being a surrogate mother. It is also important that you fully understand the emotional impact of surrogacy and that you are psychologically ready for the challenge.
Meeting with the Intended Parents: Once you join our community of surrogate mothers, we will match you with possible Intended Parents. We will provide you with a profile of possible parents, and let you judge if they are a god match for you. If you agree, then the next step is to arrange a meeting (either in person or by video chat).
The purpose of the screening process is to ensure that the pregnancy will be healthy, stress-free and uncomplicated. While the process may seem onerous, it will save you difficulties as a surrogate mother as you go through the journey.

---
Do you qualify to be a Surrogate Mother?
Becoming a surrogate mother requires strict medical, emotional, and personal qualifications. Here is a short list of the minimum that every surrogate mother should meet.
Have at least one successful, uncomplicated pregnancy
The first requirement is the most obvious… all surrogate mother candidates must demonstrate they are fertile and capable of maintaining a healthy pregnancy by having their own successful pregnancy.
Be generally healthy and take good care of themselves
We all know that it's important to eat healthy and exercise regularly, and even more so during a pregnancy. All surrogates must be able to demonstrate that they live a healthy lifestyle, including regular exercise and personal wellness habits.
No history of clinical mental illness
For obvious reasons, a woman must be in a state of good mental health, free from any of prolonged conditions which could have a negative effect upon her ability to care for a developing child.
Have a clean and healthy home environment
Surrogates must also live in a well-maintained home. That means a non-smoking, drug-free environment that is lean and well-cared for.
Healthy body weight
Women who are overweight are at a greater risk of developing gestational diabetes, which can be a risk not only to the surrogate mother but also to the pregnancy. We require a body mass index (BMI) between 19 and 33. To calculate your own BMI number, visit the National Institute of Health website.
Be between 21-44 years old
We feel that surrogates need to be at least 21 years to have the emotional maturity to make such an important commitment. Women can often carry a pregnancy into their mid 40's, but any candidates over 40 will be approved on a case-by-case basis.
Be a non-smoker
Smoking during pregnancy can cause a wide variety of neonatal problems, including stillbirth, premature delivery, and low birth weight. For this reason we admit only non-smoking surrogates, but also that her home be smoke-free.
Absolutely no drugs (and limited alcohol)
A woman must live a stable lifestyle to qualify to become a surrogate mother. This means no drugs of any kind, whether it is street or prescription pills without a doctor's prescription. While an occasional drink is normal and acceptable, heavy or regular use of alcohol is also a reason for exclusion. (In some cases, a surrogate may be asked to accept regular drug screenings throughout the pregnancy.)
No criminal history
All surrogate candidates go through an extensive criminal background check. We look for individuals with a demonstrable history of responsible and upstanding behavior.
A stable relationship or support network
Being pregnant is often hard work, and most women will need some form of emotional or physical support during their pregnancy. A good surrogate should have a partner, family or friends who can provide the needed support.
Not currently on governmental financial support
Financial difficulties, can cause stress that leads to complications in a pregnancy. Financial issues also often result in instability and stress elsewhere in one's life. While becoming a surrogate mother can be financially rewarding, we look for surrogate mothers who are not motivated solely by financial gain.
Emotionally ready for a pregnancy
Every surrogate mother candidate must pass a psychological review to ensure she is emotionally capable of fulfilling the requirements of being a surrogate. A surrogate mother must be able to care for the growing baby responsibly throughout the pregnancy, and then she must relinquish her parental rights when the baby is delivered.
Positive outlook on life
We look for surrogate mothers who are generally positive and optimistic. This type of attitude is important as she goes through the pregnancy (which can sometimes include physically and emotionally challenging days.). A good attitude will help you stay focused on the important work that you're doing, and the joy that you are bringing to a childless couple.
Be able to handle the logistics of the surrogacy process
This includes the ability to take time away from your employer and family for surrogacy appointments, bedrest, birth, and recovery. It also means you may have to travel to fertility clinics, lawyers, doctor's/ultrasound appointments.

---
Being a Surrogate Mother: Step-by-Step
Surrogacy is a medical procedure, and you should be aware of what that procedure includes. Here is what you can expect during your journey as a surrogate mother.
Because your health is so central to a successful surrogacy, it will be closely monitored throughout the entire surrogacy process, from the time you are screened until the delivery of the baby. As a surrogate, you will be required to undergo several medical tests and procedures and take fertility medications throughout the process.
Qualifying as a Surrogate Mother.
Before becoming a surrogate mother, all candidates will complete a standard medical checkup and fertility exam. That means both a physical examination and a series of blood tests.
The doctor will test your for sexually transmitted diseases and other infections. If you are in an intimate relationship, your partner will likely also need to be screened for STDs.
Blood tests will measure fertility hormone levels, and so often need to take place at the very beginning of your natural cycle. (You may be asked to go off birth control leading up to the fertility test.)
The medical screening process may also involve a variety of exams and procedures, including:
Pap smear and physical
Hysteroscopy, which involves a thin scope inserted through the cervix to determine the shape and the size of the uterus and ensure the fallopian tubes are unobstructed
Saline sonogram, which flushes the uterus with saline solution to check or fibroids or anything else that would interfere with the pregnancy
You may also be asked to submit to a drug test, as will your husband or intimate partner.
Finally, you should not have an IUD or other contraceptive implants. If you do have an IUD, it will have to be removed at least 3 months before any attempted embryo transfer.
Meeting your Intended Parents
Once you are approved as a surrogate mother, we will match you with possible Intended Parents. We will present you with profiles of possible Intended Parents, and you will be asked to accept or reject them based on their personal information. We don't insist that you accept any Intended Parent – that choice is completely up to you.
If you agree to work with a childless couple, we will draft a Surrogacy Contract and hire an independent lawyer to review the Agreement with you. We will make sure you understand every line and provision of the Agreement, and you will be able to request reasonable changes. If you and the Parents agree on the terms, you will sign the Agreement and your preparation for the Embryo Transfer will begin.
Preparing for Pregnancy
Preparing for a pregnancy requires multiple fertility treatments, blood tests, injections and ultrasounds. The standard fertility protocol lasts about 2 weeks from the start of your natural cycle. The embryo transfer takes place around Day 14 of your cycle.
If the clinic wants to perform a "fresh" embryo transfer (meaning with embryos that have just been fertilized and not frozen), then you will be asked to synchronize so your uterus is ready on the same day as the fertilized embryos. This synchronization usually means taking birth control pills to suppress your cycle until the clinic is ready. Once you go off the pill, your cycle will predictably begin, and the clinic will begin your "stimulation protocol".
Stimulation will begin on the first day of your cycle, and will consist of daily hormone supplements (some injected and some oral). Every few days you will have an examination by the clinic specialist to see how your body is responding to the medication, and if the dosage should be adjusted.
If all goes well, about two weeks into the protocol your uterus will be sufficiently prepared to receive the embryo transfer. We measure success of the protocol on the thickness of your uterine lining. It should reach a thickness between 9mm and 12mm on the day of the transfer.
A Mock Transfer
In some cases, the clinic may perform a "mock transfer" in the month prior to the actual embryo transfer. In a mock transfer, the reproductive endocrinologist will put you on the same medications you will take to prepare for the real transfer. This will give him the chance to check your uterine lining and ensure it is responding well to the medications.
The mock transfer also allows your doctor to determine the size, direction, and other specifics of your uterus. It also lets your doctor know if there are any potential problems or obstacles to the transfer of the embryo.
The Embryo Transfer
The embryo transfer is a relatively simple procedure that does not require medication or anesthesia. The doctor will simply use a long catheter to place a fertilized embryo (sometimes two) into your uterus. The catheter is inserted through the cervix into the uterus, using an abdominal ultrasound to ensure exact placement of the embryo.
After the transfer, you are free to go home following a brief rest at the clinic.
Ten to 12 days following the embryo transfer the clinic will perform an HCG blood pregnancy test. You may also use a home pregnancy test around the same time to get a (less reliable) preview of the results.
If the clinical pregnancy test shows an HCG level above 75 – congratulations, you're pregnant!
Two days later, another HCG test will be administered to verify that your HCG levels are going up; they should double about every two days. If the pregnancy is stable, you will immediately go under the prenatal care of the clinic and your own personal obstetrician.
If the pregnancy test is negative, you may repeat the embryo transfer process during your next complete cycle.
Prenatal Care for a Surrogate Mother
During the first few weeks of the pregnancy you will make routine visits to the fertility clinic for regular blood tests and ultrasounds. Once a heartbeat is heard and a healthy pregnancy is confirmed (around Week 6) you will be referred to your own personal obstetrician for the remainder of the pregnancy.
Throughout the pregnancy, you will receive prenatal care as you would with any natural pregnancy, with checkups every few weeks during the first trimester, and every month later on.
A number of lab tests are suggested for all women as part of routine prenatal care. These tests can help find conditions that can increase the risk of complications for you and your fetus. These may include:
A Complete Blood Count
Rh antibody test
Glucose screening test
Group B streptococci (GBS)
Diagnostic tests may be requested by the Intended Parents to detect birth defects caused by defects. Diagnostic tests for birth defects include amniocentesis, chorionic villus sampling, and a targeted ultrasound exam. Some diagnostic tests carry risks, including a small risk of pregnancy loss.
You will be required to share the result of all the prenatal exams with the Intended Parents. In some cases, the parents may ask to go to the exams with you – it's an exciting time for them as well as you, and they will want to have every scrap of information about the pregnancy.
You and the Intended Parents
You will not be alone throughout the pregnancy. In addition to our own surrogate manager, the Intended Parents are likely going to want to follow every development, regardless of how small. You should prepare to have two new 'best friends' as the Intended Parents focus on your care and wellbeing.
Milestones such as the first ultrasound image, the first heartbeat, the baby's early movements and 3D ultrasound scans, are important events in the lives of the Intended Parents. In some cases, the Intended parents may ask to go with you to the prenatal appointments so they can experiences the pregnancy with you.
The Intended Parents will certainly want to be present at the delivery. They may ask to be present in the delivery room when the baby is born. That choice is up to you and how comfortable you are with having them present.
In general, the relationship between you and the Intended Parents is very personal and every case is unique. Some parents look forward to lasting bond with the birth mother of their child. Some will be deeply involved with the pregnancy, delivery, and even your recovery. Other parents prefer that the relationship is kept supportive but professional. Your relationship with the Intended Parents will be defined by you both, and we suggest you discuss how you want to interact with them early in the pregnancy (or even during the matching phase).
An Important Note
Throughout these medical processes and your entire pregnancy, you will maintain regular communication with our surrogate manager and with the Intended parents.
We strongly object to the many surrogacy "agencies" that will hand you off to your personal obstetrician once you are pregnant and disappear completely. SENSIBLE believes that all our surrogate mothers are part of a special community, and we take extra care to stay by your side throughout the pregnancy and the delivery.
Our obligation is not solely to the Intended Parents, but to you as well. We want to make sure throughout the entire process that you and the developing baby are healthy and well cared for. If you have any problems or complaints during the pregnancy, you should feel free to call us. Our surrogate mangers are always available to help.

About the authors
Author: William Houghton

Bill Houghton is the founder of Sensible Surrogacy, author of the Sensible Surrogacy Guide, 2x surrogacy dad, and a dedicated advocate for secure, legal and ethical Gestational Surrogacy. Read Bill's Biography